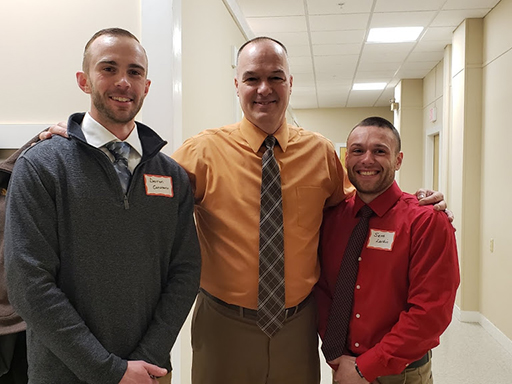 MPRN and it's Team develops relationships, and none more important than our strong relationship with the Maine Department of Corrections. Thanks to MDOC Commissioner Randall "Randy" Liberty, and Deputy Commissioner Dr. Ryan Thornell, Maine Prisoner Re-Entry Network is welcomed and encouraged to engage returning citizens while still residing in MDOC facilities and after release.
 MDOC invites MPRN to participate in facility centered meetings and innovative collaborations. For example; Maine State Prison Warden, Matthew Magnusson, employs one of its residents as a peer reentry coordinator who starts the process of transitional planning 1-2 years before someone is scheduled to be released. This coordinator communicates directly with MDOC's highly skilled casworkers and our executive director at MPRN to form a guiding team that ideally links the returning resident to resources that can help them begin to create a stable and self-sustaining future within our community. 
MDOC facility Caseworkers set up meetings with MPRN, where the coordinator, caseworker, and MPRN fine tune the re-entry plan as the release date gets closer. MPRN provides resource connections, where needed, and assigns Re-Entry or Recovery Coaches to returning citizens in need of these additional supports. MPRN coordinates with caseworkers in all of MDOC's facilities and meets with any and all returning citizens who request a meeting. Though MPRN would prefer to start meeting with inmates 6 months-1 year before release, MPRN meets with folks right up to days before release, upon request.
MPRN is invited to participate in MDOC programming meetings and was recently included in MDOC's MAT (Medication Assisted Treatment) Pilot which started delivering medication on July 1, 2019. MDOC and it's partners have engaged in a thoughtful, patient centered approach that will carry MAT to all DOC facilities by 2020. MDOC also participates in and conducts workshops during our R4R, Ready For Re-Entry Coach trainings. Workshops are conducted by MDOC Caseworkers, Community Corrections (Probation) and the Commissioner & Deputy Commissioner have officially opened our trainings in Bangor and Lewiston.
There are far too many examples of collaboration and cooperation between MDOC and MPRN to list. It's easier to say that we are thankful for the open relationship we share with our Maine Department of Corrections partners, all over the state of Maine. Without the dedication of the MDOC and their talented team, MPRN's goal of measurably reducing Maine's rate of recidivism would not be possible. There are too many MDOC partners to thank, but in addition to the already mentioned partners, MPRN would like to thank Dave Simpson for his dedication to re-entry and willingness to engage and assist MPRN in every situation.
Address
P.O. Box 7157
Lewiston, ME 04240